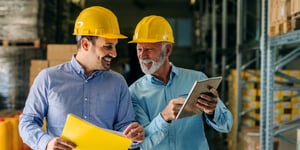 As an employer, you may look at Workers' Compensation (WC) Insurance as a necessary evil, but the truth is Workers' Compensation Insurance provides many benefits to employers as well as employees.
It is required by law for the majority of employers in Pennsylvania, and savvy employers understand the value of having Workers' Compensation Insurance.
What is Workers' Compensation Insurance?
The Pennsylvania Department of Labor and Industry defines Workers' Compensation as "mandatory, employer-financed, no-fault insurance" that compensates employees who suffer a work-related injury for medical treatment and lost wages. The goals of WC are to 1) create safer workplaces, 2) promptly treat and compensate injured employees, and 3) reduce litigation costs.
In Pennsylvania, any employer with at least one employee who could be injured or develop a work-related disease is required to provide Workers' Compensation for its employees, with very few exceptions such as federal workers, longshoremen, railroad workers, domestic workers, and some agricultural workers.
Here are 4 Benefits of Workers' Compensation Insurance for Employers:
Regulatory Compliance
If an employee suffers a compensable work-related injury and the employer does not have Workers' Compensation Insurance, the employer will be required to reimburse the state for not only direct costs of the injury, but also interest, penalties, attorney fees, and fees under the Workers' Compensation Act.
An uninsured employer can also face the risk of civil litigation by the injured employee and the risk of criminal charges by the state.
Financial Benefits
By complying with the commonwealth's Workers' Compensation Insurance requirements, a business avoids the reimbursement costs stated above. Workers' Compensation Insurance also protects employers from direct lawsuits by injured employees, eliminating the risk of costly legal fees and potential settlement.
Prevent Lawsuits
The Pennsylvania Workers' Compensation Act does not allow employees to bring lawsuits against employers for work-place injuries if the employer provides Workers' Compensation benefits.
Any form of litigation can have negative effects on a business. It can drain your company's finances, time, energy, and resources. Litigation can also affect your relationship with your employees, customers, vendors, investors, etc. A lawsuit can tarnish your company's reputation and has been known to lower a company's value and sales, and even force companies out of business.
Protection for a Vital Asset – Employees
Workplace injuries have far-reaching effects on employers' costs, including lost productivity, retraining costs, and more. A safer work environment and fewer injuries are better for everyone – employer and employee alike.
Workplace injuries can cause negative physical and psychological effects on employees – both in and out of the workplace. A serious injury can change an employee's life forever, creating chronic pain, limited abilities, depression, and anxiety. One study found that anxiety affected more than 50% of injured workers and more than 25% experienced depression.
Fewer injuries mean lower Workers' Compensation costs. That saving has become a great incentive for smart employers to create safer workplaces for their employees. To save on WC costs, many employers have developed safety programs and provide safety training.
Another Workers' Compensation cost-saving measure employers often implement is a return-to-work (RTW) program. The goal of such a program is to get an injured employee back to work as quickly as possible, even if that means working part-time or having lighter duties. An RTW program benefits employees by improving morale, helping them retain social connections and skills, and providing financial security.
How to Save on Workers' Compensation
Since Workers' Compensation is required by law for most employers in Pennsylvania, you might as well embrace these benefits. However, that doesn't mean you should pay more than necessary.
Give the experienced independent agents at American Insuring Group a call at (800) 947-1270 or (610) 775-3848 or connect with us online. We'll help you save on Workers' Compensation costs by carefully comparing policies from multiple providers to ensure you get the right policy at the best price!