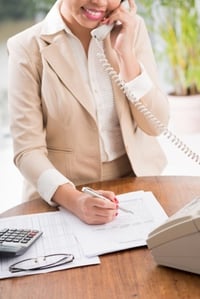 Most employers know that to reduce their workers compensation insurance costs, they must cut their claims costs. What they might not know is that the quality of claims handling by the workers comp adjuster can contribute significantly to the overall cost of a claim.
Here are five steps that any employer can take to get the most from a relationship with an adjuster.
#1. Make the insurance adjuster your partner
This might sound elementary, but getting along with a workers compensation insurance claims adjuster is a big step toward making progress in the claims process. Being a claims adjuster is already an underappreciated job. Don't ruin the relationship with an attitude of superiority or by dictating how the adjuster should do his or her job. Working as partners will smooth out the process and bring it to a quicker (and more mutually beneficial) conclusion.
#2. Communicate promptly
As you get new information, make sure to relay it to the insurance adjuster immediately. The first communication should be right after the accident, and subsequent messages—any type of medical information that was not previously known, for instance—should be sent to the adjuster that same day. Conversely, you should let the adjuster know that you expect him or her to be in touch as soon as anything new and important arises.
#3. If possible, choose your workers comp adjuster
After a few claims have been processed for your company, you will be able to evaluate the work of the insurance adjusters who have managed those claims. Ask your insurer to assign the most efficient of those to your future claims. There are benefits for doing this:
The adjuster will become familiar with you, and you will be made more significant to him or her
As the adjuster learns what you consider essential, he or she can tailor the work to your needs
When the adjuster gets to know your company, it is easier to contact the right person to obtain information and ask questions
#4. Be proactive with information
Information is the key ingredient in the workers compensation claims process, and if you can provide it before the adjuster requests it, you are speeding up the process and saving your business money. For example, if your adjuster needs a job description to get an employee back to work and you have anticipated that by sending it in advance, you will have saved time and created goodwill with your adjuster. Or, if the injured employee will be off work longer than expected, sending the worker's earnings history the adjuster, rather than having to ask for it, will make for a quicker process.
#5. Do your part to get an injured employee back to work
The sooner your worker gets back to work, the easier it will be to resolve the workers compensation claim. After your employee's first visit to a medical provider, request the return-to-work restrictions. Accommodate modified duty for the worker if it's possible. If it's not, stay in touch with the adjuster and, as soon as the restrictions are lifted or eased, bring the employee back to limited duties. The adjuster will appreciate your cooperation, and your company will end up saving money.
In Summary
Taking these steps will help to get your workers' compensation insurance claims settled quickly and without needless expense. Bottom line: Your overall workers' comp costs will be lower for your business.
Want to Lower Your Workers Comp Insurance Costs? Contact Us!

To learn more about lowering your workers comp costs, contact American Insuring Group online or call us at (800) 947-1270 or (610) 775-3848.
We'll leverage our independent agency status to compare your needs to policies offered by many competing insurance providers, so you'll be assured of getting a workers comp policy that meets your needs and does so at a competitive price.
Call or click today to get started!