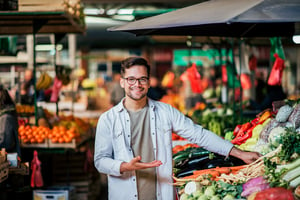 As the "buy local food" movement continues to gain traction, the U.S. is experiencing an increase in the number of farmers markets across the country. According to the Farmers Market Coalition, there were less than 2,000 farmers markets in 1994, which has grown to more than 8,600 markets today.
Many vendors have discovered that farmers markets are an easy and economical way to sell everything from produce and honey to cheeses and meats to prepared foods such as jams and pickled items and much more. As with any business endeavor, being a vendor at a farmers market opens you up to liability issues, so you need to make sure you have the right commercial liability insurance to protect yourself.
Farmers Market Vendor Liability Exposure
The two most common types of liability for farmers market vendors are general liability and product liability. General liability involves risks associated with injuries caused by trips and falls, unsecured tents, etc.
Product liability is associated with the food that you sell. The most common product liability issue is food borne illness, but violations in state health regulations – regardless of whether a consumer is harmed or not – can result in a claim.
The good news is that there is plenty you can do to minimize your liability risks and the costs associated with them. Here's how ...
5 Tips to Protect Your Farmers Market Vendor Business
Safety Training
Knowing how to handle and prepare food safely will help minimize your exposure to product liability, and food safety training for all employees might even lower your insurance premiums. Training should include why cleanliness (of hands, tools, prep space, etc.) is so important, how to prevent food cross-contamination, safe food temperatures (see below), and food allergies.
Keep Produce Clean
If you're selling produce, it's essential to make sure it is as clean as possible at all times regardless of where it came from or how it was grown (organic, pesticide-free, etc.). Thoroughly clean everything before setting up shop and continue to clean it throughout the day as it is exposed to dust, insects, and people.
Know Your Produce
Consumers are becoming smarter and more particular about the food they're eating. If you're selling produce, you should know your product – where it was grown, what (if anything) your produce has been treated with, and whether or not it is organic, pesticide-free, or GMO-free. You'll need to be able to answer those questions if a consumer asks.
Pay Attention to Temperature
Temperature is one of the most critical elements of food safety. If you want to help ensure the safety of your customers, keep inspectors happy, and keep your insurance costs down, you need to follow food safety temperatures – during preparation and storage.
The temperature danger zone is between 41 and 135°F. The longer food sits in that temperature range, the higher the risk of bacteria.
Maintain and keep your refrigeration equipment clean, and regularly check to ensure that it is keeping your food properly chilled.
Purchase the Right Insurance
Many farmers markets will require you to have general liability insurance to protect your business and the market. Even if they don't, it's a smart business move. Despite all of your best efforts, accidents do happen. Without the proper protection, one lawsuit from someone who trips and falls at your stand or gets sick after eating your food could mean the end of your business.
The farmers market may also require that you add the market and/or the municipality as an "additional insured." An additional insured enjoys the benefits of the policy you purchase. There may be an extra fee for an "additional insured."
Want to Ensure You Get the Best Price on Insurance?
Contact one of the experienced agents at the American Insuring Group. Not only do we specialize in Commercial Liability Insurance to ensure that you get the right coverage, but as independent agents, we can compare the cost of that coverage with multiple carriers to ensure you get the best price. Give us a call at (800) 947-1270 or (610) 775-3848 or connect with us online.