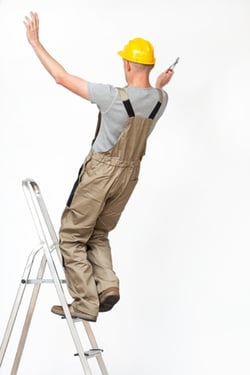 This is the final blog post addressing what OSHA has labeled the "fatal four." The fatal four are four hazards that are responsible for 63.7% of all construction worker deaths.

Recognizing and preventing these hazards will save lives, improve employee morale, and help reduce insurance costs.

The Fatal Four include the following hazards (statistics are from 2016):

1- Falls accounted for 38.7% of deaths
2- Being struck by an object accounted for 9.4%
3- Electrocutions accounted for 8.3%
4 -Caught-in/between accounted for 7.3%


Today, we'll be addressing the most common cause of construction site injuries and the leading cause of construction worker deaths – falls.
4 Leading Causes of Falls and How to Prevent Them
1 - Unprotected edges, wall openings, and floor holes
Falling from a higher level can result in sprains, breaks, concussions, and death. Unprotected edges, wall openings, and floor holes can cause workers to fall from great heights. OSHA requires the use of guardrail systems, safety net systems, and/or fall arrest systems when workers are exposed to a fall hazard of six feet or more above a lower level.
Guardrails – the only solution that prevents falls from happening - must be 39 – 45 inches in height from the surface, the top rail must be able to withstand a minimum of 200 pounds and the middle rail 150 pounds.
Safety nets must be placed less than 30 feet below the work area and must extend at least eight feet out from the worksite. Border ropes must have a minimum strength of 5,000 pounds.
Fall arrest systems consist of the anchorage, connecting device, and full-body harness. Arrest systems should be inspected before each use.
Other safety precautions to avoid this type of fall include the following:
Before cutting a hole, barricade the work area if possible.
Holes should be covered or guarded immediately, and the covers should be able to support two times the weight of employees, materials, and equipment.
Clearly mark where there is a hole.
2 - Improper Scaffolding Construction
According to the Bureau of Labor Statistics (BLS), accidents involving scaffolding account for approximately 4,500 injuries and 50 deaths in the U.S. every year. The BLS found that 72% of scaffolding injuries are caused by the planking or support giving way, the lack of guardrails and/or fall protection, and objects falling from overhead. OSHA requires that employees on scaffolding that is higher than ten feet above a lower level must be protected.
Safety precautions to avoid falling from scaffolding include the following:
Construct scaffolding according to manufacturer's specifications
Install guardrails
Brace or tie scaffolding to the building if height or width of scaffolding calls for it.
Use metal walk boards instead of wood if possible
Ensure safe access to and from the platform
Follow the load capacity guidelines
Wear hard hats and other PPE (Personal Protective Equipment)
3 - Unguarded Protruding Steel Rebars
The chance for injury from a fall from an elevated position increases significantly if protruding steel rebars are left unguarded, and even the simple trip or fall can cause serious injury when steel rebars are left unguarded. Unguarded rebars can cause cuts, abrasions, impalement, and other injuries.
Assess the site for rebar-related hazards. Cap any protruding steel rebars with steel-reinforced rebar caps or wooden troughs or bend the rebar at the very least. Make sure that all employees wear appropriate PPE and those working above rebars wear fall protection.
4 - Misuse of Portable Ladders
Falls from ladders are an all-too-common cause of injury at construction sites. Improperly placed ladders can shift or fall, and workers can slip or lose their balance when working on ladders. To avoid injuries, the proper ladder should always be used for the job, it should be safely positioned on a solid surface, and workers should take their time when working on ladders.
Most accidents with ladders are caused by the following:
Incorrect ladder choice
Improperly secured ladders
Trying to carry tools and equipment while climbing a ladder
Lack of attention
The condition of the ladder
Ladder placement
Not taking your time
Safety precautions when using a ladder include the following:
Place ladders so the side rails extend at least three feet above the landing
Attach the top and bottom of the ladder to something secure to keep it from slipping or falling
Use the correct size ladder so that it can be placed at a stable angle
Maintain three points of contact when going up or down a ladder
Stay near the middle of the ladder
Face the ladder when climbing up or down
Imagine if you could eliminate (or at least significantly reduce) falls at your worksites. Nearly 40% of accidents would be eliminated, and you'd be left with happier, safer, and more productive employees and lower insurance costs.
The Quickest Way to Lower Your Contractor Insurance Cost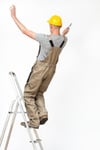 Another way to save on construction and contractors insurance is to work with the independent agents at American Insuring Group.
We work with multiple insurance companies to ensure that you get the very best price on all your Contractor Insurance needs.
Get started by calling us today at (800) 947-1270 or (610) 775-3848 or contact us online.