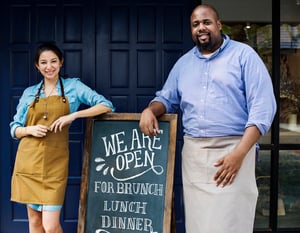 Restaurant Insurance is available to protect your property, your employees, and your business. Some types of insurance are pretty standard and may even be required by law or by other entities such as lenders and landlords.

The following are standard types of insurance that most restaurant owners carry:

covers your building and its contents if it is damaged by fire, storms, theft, etc. and is usually required by lenders.

Commercial general liability insurance
covers legal costs and any judgments you may be required to pay a plaintiff if you are found liable for bodily injury or damage to someone else's property.

Workers' compensation insurance
covers injury to employees and is required by law for most businesses with employees.


These insurances are great for protecting many of your assets; however, you may find that there are gaps in your coverage. Fortunately, there are other types of insurance or additional coverages available that can help fill those gaps.

You may not need any of these additional coverages, but knowledge is power. If you want to avoid unpleasant surprises down the road, it is critical that you consider potential risks, determine if they are covered under your existing policies, and decide how (or if) you need additional coverage.

An experienced agent who specializes in restaurant insurance – like those at American Insuring Group - can help you determine the best coverage for your specific needs.
Here are Additional Coverages You May Want to Consider for Your Restaurant
Liquor Liability
If you have a liquor license, you should have liquor liability insurance to protect your restaurant if a customer becomes intoxicated and causes injury or damage.
Commercial Automobile Insurance
If you use a vehicle to transport food or people, you will need commercial automobile insurance.
Employment Practices Liability
If an employee sues your restaurant for discrimination or harassment, it may not be covered by general liability insurance.
Life Insurance
If your death (and loss of income) would cause a financial hardship for your family, you should consider either term or permanent life insurance.
Commercial Umbrella Insurance
Umbrella Insurance provides coverage above the limits of your general liability, commercial auto, or employer's liability on a WC policy.
Sewer Backup

Sometimes a sewer backup isn't just a stinky nuisance; it can cause real damage to your restaurant and is typically not covered under property insurance.
Utility Interruption Coverage
The loss of utilities such as electric, gas, water, etc. could shut down your restaurant or even cause damage to your restaurant.
Equipment Breakdown
Restaurants rely on their equipment – ovens, freezers, food warmers, etc. - and equipment does break down and can cause damage.
Spoilage or Food Contamination Insurance
An interruption in utilities or an equipment breakdown could result in costly food spoilage.
Extra Expense
If your property is damaged, and you want to continue operating at another location while repairs are being made, you're going to incur expenses such as equipment or property rentals. If you want those expenses covered, you'll probably need to purchase extra expense coverage.
Fine Arts
If you have expensive paintings or other artwork in your restaurant, you may need to protect your investment from damage or theft with fine arts coverage.
Employee Theft
A typical property insurance policy does not cover theft by employees.
Peak Season
If your restaurant sees a high level of business during certain times of the year, you may want a higher limit for personal property insurance coverage during that time.
Specific Peril Insurance
If your liability policy doesn't cover damage from natural disasters (some do, and some don't), you may need specific peril insurance.
Business Interruption Insurance
If your restaurant sustains damage and you need to close for an extended period, business interruption insurance can cover your loss of income while repairs are made.
You don't want to pay more for insurance than is necessary, but at the same time, you do want to make sure that your business assets are adequately covered. This is where an independent agent who specializes in restaurant insurance can help.
Need Help Ensuring That Your Restaurant's Assets are Properly Covered?
The independent agents at American Insuring Group can help you determine the best coverage for your restaurant. They check and compare coverage from multiple insurance companies to make sure you're getting the best price on quality coverage. Give us a call at (800) 947-1270 or (610) 775-3848 or find us online.