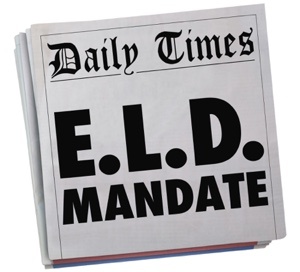 It's a little early to know for sure how the ELD (Electronic Logging Device) mandate has affected businesses in the trucking industry, but so far, the response seems to be a mixed bag.
Some say they haven't seen any changes to their business and some have thrown in the towel and closed up shop saying the mandate is too cost prohibitive.
The compliance deadline for the ELD mandate affects three million drivers and went into effect December 18, 2017. It requires commercial motor vehicles (CMVs) involved in Interstate Commerce, to use an ELD.
3 Main Areas of Impact for the Electronic Logging Device Mandate
Based on what we've seen so far, it looks as if the three areas that are most likely to see the biggest impact from the new mandate are insurance rates, productivity, and cost.
Insurance Rates
Safety is the driving force behind the mandate imposed by the Federal Motor Carrier Safety Administration's (FMCSA). The FMCSA has said, "The electronic logging device (ELD) rule – congressionally mandated as a part of MAP-21 – is intended to help create a safer work environment for drivers, and make it easier and faster to accurately track, manage, and share records of duty status (RODS) data."
The idea is that ELDs (as opposed to the paper and pen method) will capture Hours of Service (HoS) more accurately and ensure that drivers are following safety and compliance standards, which should in turn reduce the number of accidents caused by fatigue.
According the FreightWaves, driving more than 12 hours since the last main sleep is associated with an 86% increase in crash risk and driving more than five hours without stopping (getting out of the driver's seat) more than doubles the risk of an accident. The FMCSA estimates that the ELD mandate will prevent about 20 fatalities and 434 injuries caused by driver fatigue every year.
Safer roadways and fewer accidents should produce lower truck insurance premiums. ELDs may also reduce or possibly eliminate lawsuits in which the plaintiff alleges that fatigue due to driving outside the HoS limits is the cause of an accident. Fewer lawsuits should also equal lower insurance premiums.
Plus, some ELDs offer more features and reporting capabilities – such as GPS tracking and engine data reporting – that can be used to improve asset utilization and increase preventative maintenance. Carriers that use these more-advanced devices may be able to use this information to lower their auto insurance premiums.
Increased Cost Per Truck Annually
Complying with the mandate carries with it some up-front costs. FMCSA estimates that the average annual cost of an ELD is $495 per truck, with a total range of $165 to $832 per truck on an annualized basis. That may not sound like much, but consider a carrier with 10 vehicles that did not have ELDs prior to the mandate. They're looking at an additional yearly cost of almost $5,000. In an industry with tight margins like the trucking industry, $5,000 every year can have a significant impact.
On the flip side, the FMCSA projects that ELDs will save more than $1.6 billion each year from paperwork savings alone. Add to that expected decreases in maintenance costs, reduced truck downtime, and lower crash rates, and that's a pretty impressive savings.
Driver Productivity - Up or Down?
This area is the biggest mixed bag. The general mind-set is that automating any process, should save time. ELDs will eliminate the time required to write driver information in a log book. Everything will be done automatically for them.
However, some companies – particularly smaller companies - haven't been fully complying with HoS restrictions prior to the mandate. With the information now being logged electronically, they'll have no choice but to follow those restrictions or risk expensive fines. These companies will see a drop in driver productivity.
According to FreightWaves, smaller carriers, which make up 90-97% of trucking companies, will experience a 4-20% decline in productivity.
Another problem some drivers have reported is that many shippers and receivers aren't ready for the mandate, and long hold times are creating problems for drivers who are spending too much time sitting at the dock.
In a DAT blog asking for feedback from carriers, drivers, freight brokers, and shippers about the new mandate, Marina Andreyreva commented, "ELDs were installed in all my trucks before the ELD mandate. There have been many changes in dispatching. So far, all delivery times have been rescheduled due to long hold times at the shipper. Problems at shippers now heavily reflect on drivers' hours. This must be addressed in order to operate efficiently for both drivers and company owners. Brokers need to be aware of HOS and understand the law in order to build freight accordingly."
We Can Help Smooth Your Transition to ELD
Only time will tell the full impact of this new mandate, but American Insuring Group is here to help smooth the transition for our trucking insurance customers. As a representative of Progressive Insurance, we can offer participation in their SMARTHAUL program.
With the SMARTHAUL program, you have two options:
The free use of an ELD
This includes the monthly subscription/service fees as long as you share your driving data with Progressive. The device would need to be returned if you decide to opt-out or cancel your coverage with Progressive.


The compensation program
If you purchase your own Rand McNally ELD 50 or DC200 and agree to share your driving data with Progressive, you'll receive $100 for plugging it in and an additional $100 for each quarter that the device stays plugged in – up to $500. You will be responsible for the monthly service fees, but the $500 compensation should cover those costs.


Save Big on Trucking Insurance with American Insuring Group

To learn more about the SMARTHAUL program, or to start saving BIG on trucking insurance, give American Insuring Group a call at (800) 947-1270 or (610) 775-3848, or contact us online.
But don't wait; the program is only available for a limited time.