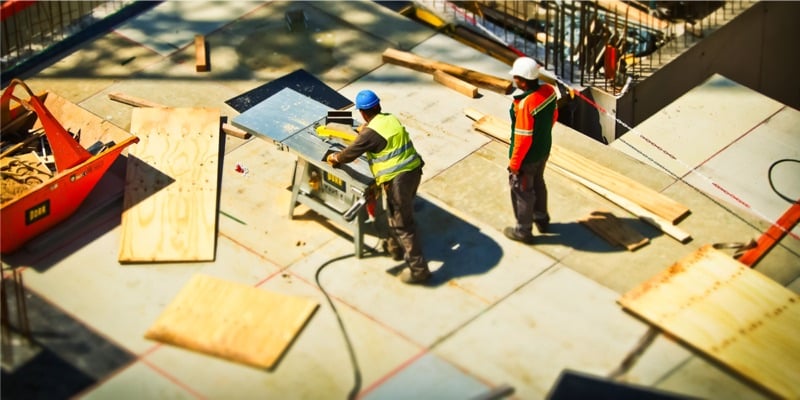 Construction sites are filled with hazards/risks that cause injuries and fatalities, increasing both direct and indirect costs, such as lost workdays, lower employee morale, and higher Contractor Insurance premiums.
"Construction is a disproportionately costly industry, accounting for only 5.2% of all private industry employment in 2002 (BLS 2006) but 15% of all private industry injury costs," according to National Center for Biotechnology Information (NCBI). "Construction injuries cost $11.5 billion, with $4 billion in fatalities (40%) and $7 billion in nonfatal injuries, primarily driven by cases with days away from work."
So, wouldn't it be wise for contractors to use every available tool to reduce risk and lower the number of onsite injuries and fatalities? Technology is one of those tools. Here are four ways that technology can simplify risk management and keep construction workers safer.
Streamline Safety Processes
Digitalizing safety procedures eliminates paper-based documents, forms, reports, etc.; saves time and money; improves productivity; shows your employees and OSHA your organization's commitment to safety; and helps your organization remain compliant with state and federal safety regulations.
For example, mobile apps can collect data, improve communication, and help reduce risk. Cloud-based technologies allow users to make changes that all users can immediately access. You can also integrate automation to help improve workflow and minimize the risk of human error.
Improve Training
Safety training is crucial to creating a safer worksite (and lower insurance rates), and technology can help increase awareness, quickly share information, and make it easier to track safety training. In addition, digital solutions allow you to customize training and track compliance.
Technology can improve toolbox meetings by allowing you to hold meetings virtually, record sessions, track attendance, and generate PDFs. In addition, Digital tools can engage workers and celebrate safety achievements to improve worker morale and shine a spotlight on the importance of safety.
Protect Workers
According to a U.S. Chamber of Commerce report, 83% of contractors believe that wearable technology would be useful to improve onsite safety. Wearable technology comes in many forms:
Smartwatches that monitor health and activity, detect falls and send alerts, and enable hands-free communication.
Smart boots that detect pressure from shocks and falls and sense location.
Smart hats that monitor fatigue, prevent microsleeps, detect collisions.
AR glasses that can detect leading edges, identify hazardous material, and display safety protocols.
Smart monitors can track core body temperature, detect harmful gases, and improve contact tracing.
Exoskeletons provide lift support, posture correction, weight dispersion, and more to minimize strain and injuries.
Drones can be used to inspect structures, identify potential hazards, ensure that employees are working safely, and quickly identify changing work conditions. Drones allow workers to perform inspections, often performed at great heights, remotely while staying safely on the ground. Drones may even be used to alert workers to gas leaks and to transport tools and equipment.
Predict the Future
There's no denying that new technology can generate tons of data that can be analyzed and provide valuable insight. The data can be used to determine trends, identify potential problems, and prevent future injuries.
How to Save Even More on Contractors Insurance!
American Insuring Group has agents who specialize in contractors' insurance and understand the industry's unique challenges. Plus, as independent contractors, our agents compare the cost of your insurance with several companies to ensure you pay the lowest price on all of your insurance needs.
Give us a call today at (800) 947-1270 or (610) 775-3848, or connect with us online.