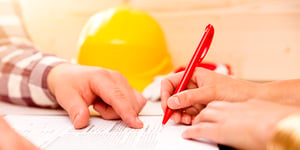 Certain types of Contractors Insurance are required by law, and some may be required by your clients. Other types of insurance are optional but may be needed to protect your business. Regardless, you'll want to get the most out of your insurance policies – by ensuring you have the right coverage, that there are no gaps, and that you're paying the lowest price for that coverage.
Here are six tips to help you get the most out of your Contractors' Insurance.
Understand What Your Policies Don't Cover
There aren't many things more frustrating than paying for insurance coverage for years only to discover your policy doesn't cover an incident or doesn't cover the full amount when you go to file a claim. You need to understand what your policies do and don't cover to determine any potential gaps in your policy.
To spot any gaps in your coverage, you need to Identify any risk your business may face, decide if you want that risk covered by insurance, and determine which, if any, policies cover that risk.
Here are four examples of common gaps in Contractors Insurance.
Did you know that typically General Liability Insurance policies exclude coverage for faulty workmanship? Faulty Workmanship coverage helps protect yourself against claims of faulty workmanship filed by your customers.
What would happen if your tools were stolen from a job site? Would your Commercial Property Insurance cover the cost to replace your tools? Probably not, but Builder's Risk Insurance will.
What if a piece of expensive equipment was stolen in transit to a worksite? Again, your Commercial Property Insurance would probably not cover replacement; however, Inland Marine Insurance would.
If you have to temporarily cease operations due to a catastrophe, such as a fire or theft, do you have enough cash on hand to get you through a period with no income? If not, Business Interruption Insurance can help.
What would happen if your partner – an essential part of your operation – were to become disabled? Would you be able to continue your business? If not, Key Person Insurance is an option.
Did you know that if someone hacked into your computer system and took customer information, you could be held liable for that data breach? Unfortunately, there's a good chance that your General Liability Insurance won't cover that; however, Cyber Liability Insurance can help.
On the other hand, you may be paying for coverage or endorsements for risks that your business is not likely to incur. Or you may be duplicating coverage with more than one policy. Identifying these issues may help reduce your insurance premiums.
Understand Your Policy's Limits
Make sure you understand your policies' limits. A limit is the maximum amount of money your insurance company will pay for a covered claim. For example, let's say you're in a car accident on the way to a job site, you're sued, and the settlement is $2 million, but your limit is $1 million. You will be responsible for covering the remainder of the payment. With an Umbrella Policy (Aka Excess Liability Insurance), you can increase the limits on your existing policies.
Understand Your Deductibles
The deductible is the amount you would pay before insurance kicks in when a claim is made. Typically, the higher your deductible, the lower your insurance premiums. This is a great way to lower your premiums IF you have enough cash on hand to cover the deductible. In addition, knowing how much your deductibles are is a great way to avoid unpleasant surprises.
Let People Know You Have Coverage
Your insurance coverage can become a business asset. Proper insurance shows clients and potential clients that you are a professional who is serious about your business and can pay if something – damage or injury – were to occur during a project.
Regularly Review Your Insurance
Things change, and so do your insurance needs. Maybe you fired an employee or hired a new one. Perhaps you purchased a new piece of equipment or sold one. By regularly reviewing your policies (at least annually), you can ensure you have everything covered without paying for insurance that you don't need.
Compare Costs
Different insurance companies offer different coverage and different pricing. The independent agents at American Insuring Group will compare the cost of your coverage with several insurance companies to ensure you pay the lowest amount for your insurance coverage.
Give us a call today at (800) 947-1270 or (610) 775-3848, or connect with us online.