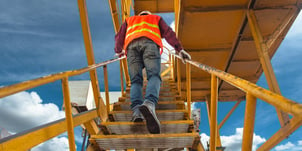 The construction industry is filled with risks, but understanding those risks and how to mitigate them can save you a ton of money on your Contractors Insurance costs. Here are three top risks every construction company should be aware of, steps to minimize those risks, and insurance to protect your business when something does happen.
Risk: Injuries
Job site injuries are all-too-common. According to BigRentz, construction injury rates are – on average - 71% higher than injury rates across all industries and every year. The total cost of construction injuries in the U.S. is more than $11.5 billion per year, and in 2019, 130,000 construction workers missed work due to injuries.
Employees aren't the only ones who can be injured on a job site. Clients, vendors, etc., who visit your job site are also susceptible to injuries and may not be familiar with your safety protocols.
Minimize the Risk of Injuries
The most effective way to minimize the risk of injuries is with a safety program. According to OSHA, construction companies can save $4 to $6 for every $1 invested in a safety program. However, according to National Funding, construction companies spend about 3.6% of their budgets on injuries and only 2.5% on safety training.
OSHA suggests the following core elements of a Safety and Health Program:
Management Leadership

Worker Participation

Hazard Identification and Assessment

Hazard Prevention and Control

Education and Training

Program Evaluation and Improvement

Communication and Coordination for Host Employers, Contractors, and Staffing Agencies
Insurance Protection for Injuries
Workers' Compensation (WC) Insurance – WC -mandatory in most states - is designed to cover medical expenses and lost wages when an employee is injured on the job. It also helps protect the employer against accident-related lawsuits.
Business Liability Insurance – Clients, vendors, etc., who are injured on your job site are not covered under your WC policy. Business Liability Insurance typically protects your company if someone other than an employee is injured on a job site.
Risk: Equipment Damage and Theft
Contractors rely on their tools and equipment to get the job done, and damaged or stolen equipment can quickly put a project at risk. Every year, as much as $1 billion is lost in the U.S. due to stolen construction equipment and tools. According to the NCIB, less than 20% of it is ever recovered.
But the cost of stolen or damaged equipment goes well beyond replacement costs. IT also costs time spend filling out police reports and insurance forms. And whether the equipment is stolen or damaged, contractors need to find alternative equipment or make repairs to finish the job.
Minimize the Risk of Equipment Damage and Theft
The risk of damage can be minimized with regular maintenance and training to ensure the equipment is being operated properly.
The risk of Theft can be minimized with a few steps:
Assess risks on each job site and develop a theft prevention policy.

Secure your job site with fencing, security cameras, etc.

Secure your equipment by locking it up and consider adding security measures such as alarms, fuel and equipment cut-off switches, and locks that immobilize controls.
Insurance Protection for Equipment Damage and Theft
Commercial Property Insurance - Most Commercial Property Insurance policies cover tools and equipment that is stolen or damaged. However, it does not usually cover equipment that is in transit or stored at a job site.
Builders Risk Insurance – Builders Risk Insurance is designed to protect equipment, structures, and materials in transit or at a job site.
Risk: Litigation
We live in a litigious society, and anyone who works on a project can be held liable for any number of things. For example, you can be held responsible for property damage and projects that are not up to code or have other defects, such as cracks in the foundation, faulty drainage, or heating or electrical issues – even if it isn't your fault.
Minimize the Risk of Litigation
Litigation can cost a lot of time and money in legal fees and potential judgments against you. Fortunately, there are steps you can take to minimize the risk of litigation:
Pay attention to the contract and fulfill the terms of the contract

Document daily reports for defects

Set realistic schedules

Keep communication formal and reasonable

Consult a specialist when appropriate
Insurance Protection for Litigation
General Liability Insurance - This type of policy helps cover risks such as injuries of non-employees, customer property damage, libel, and slander.
Professional Liability Insurance – This type of insurance helps cover lawsuits that result from a failure to deliver on promised services, negligence in providing services, and errors and oversights.
The Best Way to Protect Your Construction Company
Minimizing risk should always be a top priority, but when all of your best-laid-plans fail, the right insurance helps protect your company from those risks. The independent agents at American Insuring Group will check with multiple insurance companies to ensure that you pay the lowest price on your insurance coverage. Give one of our experienced agents a call at (800) 947-1270 or (610) 775-3848 or connect with us online.