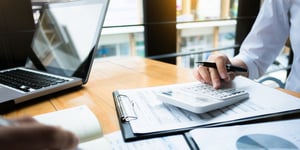 More and more employers are moving away from the traditional guaranteed Workers' Compensation Insurance plans into loss-sensitive plans. Loss-sensitive plans can help some businesses save money, but for others, a loss-sensitive plan can cost a company more than a guaranteed plan.
How do you know which type of Workers' Compensation plan will yield the highest return for your business? Here are three tips to help.
Understand the Different Types of Loss-Sensitive Plans Available.
Retrospective Rating Plans
The Insurance Journal defines a retrospective rating plan as a plan "in which the final premium is based on the insured's actual loss experience during the policy term, subject to a minimum and maximum premium, with the final premium determined by a formula which is guaranteed in the insurance contract."
With a retrospective rating plan, an employer pays a standard premium - a combination of a basic premium and a loss projection - at the beginning of the policy year. After eighteen months, the insurer uses the employer's actual losses to calculate a retro premium. If the retro premium is lower than the standard premium, the employer receives a premium from the insurer for the difference. If the retro premium is higher than the standard premium, the employer has to pay an additional premium.
Typically, there is a cap on the additional premium (usually 1.20 times the standard premium) an employer must pay.
Large Deductible Plan
A large-deductible plan is basically a guaranteed WC plan that includes the employer self-insuring part of its compensation losses with a large deductible. With this type of plan, the employer pays a lower premium but is then required to set up an escrow fund and reimburse the insurance company for claims up to a certain dollar amount.
Captives
The Insurance Journal defines captives as "any insurance company that is owned by one or more organizations, and that insures only the owners of the company." There are typically two types of captives used for WC. One is a single owner, where the company that is insured has complete control over everything, including investments, operations, etc. The other type is a rent-a-captive, which is owned and run by an organization other than the insured, such as a broker, a fronting insurance carrier, etc.
Understand Your Risk Tolerance
The advantage of a guaranteed Workers' Compensation Insurance plan is that your premiums are very predictable. You can put it into your budget and not worry about it. The cost of loss-sensitive plans can vary significantly. You can include an estimate in your budget, but the actual cost can vary, along with the frequency and timing of payments.
IF your company has a low tolerance for risk, a guaranteed plan may be a better choice. However, if you've created an effective safety program, provided all of your employees with appropriate safety training, have a robust return-to-work program, and have minimized workplace injuries, your loss projections should be reasonably accurate. Therefore, you may want to consider taking on more risk with a loss-sensitive plan. You've reduced risk within your organization, and a loss-sensitive plan could provide a higher return on your investment.
Consider the Financial Impact of Each Type of Plan
You should understand the impact each type of plan will have on your cash flow and the tax implications of each. A guaranteed cost plan may cost you more; however, it provides consistent payments, and you know how much you're going to pay. You can put the cost of your premiums into the budget and not worry about it.
However, a loss-sensitive program can offer cash flow advantages because you're paying for claims as they occur rather than paying an insurance company upfront for expenses that may not occur for months or even years.
Need More Help Lowering Workers' Compensation Costs?
American Insuring Group is committed to providing the best insurance coverage at the best price. First, we offer blogs for a variety of industries to help improve workplace safety, which will help lower WC costs.
Plus, we are independent agents who specialize in Workers' Compensation Insurance. Give us a call today at (800) 947-1270 or (610) 775-3848 or connect with us online.