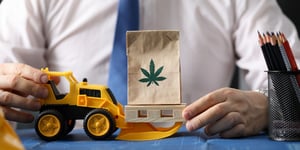 More than four years after Governor Tom Wolf signed the Pennsylvania Medical Marijuana Act into law, the implications of the law on construction site safety and Contractors Insurance is still unclear. Pennsylvania was the 24th state to legalize medical marijuana, and today, nearly thirty states have similar laws.
The challenge for construction companies is balancing safety with compliance with a variety of conflicting state and federal laws regarding the use of both recreational and medical marijuana.
According to the National Safety Council (NSC), "While medical marijuana-using employees have mounted legal challenges, state statutes usually side with employers who reject potential employees or reprimand workers that test positive for cannabis, even if they have a medical marijuana card. Some states protect employee rights and safeguard against disciplinary action for medical marijuana use, however. Marijuana is still illegal according to federal law, which classifies it as a Schedule I drug with no accepted medical use and a high potential for abuse. Federal law supersedes state law."
NSC also states that the Americans with Disabilities Acts sides with employers, most states will not pay worker compensation benefits to an employee who is under the influence at the time of the accident, and most state health insurance programs won't pay for medical marijuana.
Putting legal and ethical issues aside, the bottom line is that marijuana use can impact job safety, and in an industry already fraught with its share of hazards, safety should be a priority for any construction site. Workplace injuries not only increase Workers' Compensation Insurance costs they also decrease employee productivity and morale.
Marijuana and Job-Site Safety
Marijuana contains tetrahydrocannabinol (THC), a psychoactive compound, which has shown to have adverse effects. It can change a person's sensory perception, create short-term memory problems, and impair thinking. Physically, marijuana use has been shown to impair motor skills, cause a loss of balance and coordination, and impair depth perception. These effects can prove deadly to someone driving a forklift or working on a roof.
According to the National Institute on Drug Abuse, "employees who tested positive for marijuana on a pre-employment urine drug test had 55% more industrial accidents, 85% more injuries, and 75% greater absenteeism compared with those who tested negative for marijuana use."
What Can Construction Companies Do?
While much of the Pennsylvania Medical Marijuana Act is unclear – or even conflicting - some sections support employers and workplace safety. For example, if an employee has more than ten nanograms of THC in their blood, they cannot operate or be in physical control of strong chemicals or high voltage electricity and that an employee who is "under the influence of medical marijuana" cannot perform duties in confined spaces or at heights." It also states that an employer can prohibit an employee from "performing any task which the employer deems life-threatening, to either the employee or any of the employees of the employer."
If you are working on a federal project, you have no choice but to maintain a drug-free job site, and the use of marijuana on the job should always be prohibited on any job site.
The NSC recommends that construction companies have a drug-testing program and a solid drug policy in place that include the following:
A definition of the terms "marijuana," "cannabis," or any other derivation
Proper management and supervisor training
Access to support for employees with drug addictions
Clearly defined use and possession parameters
Drug testing policies and procedures – Tests should be conducted uniformly for all employees to avoid liability for discrimination claims.
Education for employees on clinical issues relating to marijuana, such as how long it remains in the system, the effects it can have, including the potential impact on workplace safety.
Established rules for post-accident testing
Rules on how to handle employee convictions or arrests
A reminder that on-the-job impairment will not be tolerated, including medical marijuana
Include your drug policy in all recruiting and new-hire on-boarding materials. Review your drug policy with a lawyer and update it as laws change.
Here's How to Save on Contractors Insurance!
Creating a safe worksite is just one way to lower Contractors Insurance rates. Working with one of the American Insuring Group independent agents who specialize in Contractors Insurance will ensure that you get the right coverage at the best price. Give us a call at (800) 947-1270 or (610) 775-3848 or connect with us online.