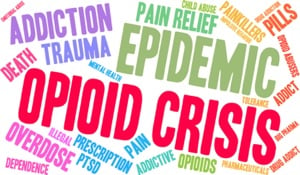 It's difficult to pick up a newspaper these days and not see an article about the opioid epidemic plaguing Americans.
It is a serious issue that is costing businesses millions of dollars every year.
According to the Center for Disease Control (CDC), more than 700,000 people died from a drug overdose from 1999 to 2017, and about 68% of the deaths that occurred in 2017 involved an opioid. The number of deaths caused by opioid overdose – both prescription and illegal – was six times higher than in 1999.
Impact on the Construction Industry
The construction industry is not immune to this epidemic – in fact, it is hit harder than most. The very nature of the industry makes construction workers more vulnerable to opioid abuse than workers in other occupations. In 2016, 73% of injured construction workerswere prescribed a narcotic painkiller. According to the Substance Abuse and Mental Health Services Administration, construction workers suffer from substance use disorders at nearly twice the rate of the general population.
7 x More Likely to Die from Opioids?
One study found that construction workers in Ohio were seven times more likely to die from an overdose of opioids than workers in other professions. Another study found that construction workers in Barnstable County in Massachusetts accounted for 25% of all fatal overdoses from the prescription painkillers heroin and fentanyl.
Higher Workers Comp Insurance Costs
This creates higher workers compensation (WC) losses, and WC insurance costs for construction employees are more than double the average cost for other occupations, according to the Center for Construction Research and Training. Narcotics such as opioids account for 29 percent of prescription costs in workers compensation, according to the National Institute for Occupational Safety and Health(NIOSH).
Why is Opioid Addiction Hitting the Construction Industry so Hard?
If you think about it, it is not a surprise that employees in the construction industry have been hit hard by the opioid epidemic. Here's why:
Construction is a dangerous job prone to injuries like sprains, ligament tears, and pulled muscles, which leads to pain and the prescription of opioids to ease the pain.


The average age of construction workers in the U.S. is 41. In Pennsylvania, it's 44. As we age, our bodies don't heal as quickly as they did when we were in our 20's.


Most construction workers don't get paid if they don't work, so many are willing to do what they need to work through the pain.


People in their late 30s and early 40s often have families to support, which means they need to work – whether they're in pain or not. Medication can help ease the pain and allow them to continue to work and to support their families.


NIOSH found that adults over the age of 40 are more likely to use prescription opioids than adults 20 to 39.


Repeated opioid usage creates a cycle of abuse. In other words, when an employee is injured he or she may change their gait or how they carry materials, which can lead to a second injury. Research shows that a worker who has pain in three or more areas is more likely to become addicted to painkillers.


Prescription opioids are often readily available on construction worksites and shared among workers.


The stigma around addiction makes it difficult for workers to admit there is a problem
What Can You do as an Employer?
You can help minimize opioid addiction among your workers:
Improve worksite safety to minimize injuries and the need for opioids.


Pay attention to your workers' compensation medical provider network. Some networks limit opioid refills or prohibit physicians from dispensing narcotics leaving that to pharmacists. Some networks control how prescription drugs are reduced.


Educate your employees about how opioids work, their potency, drug interactions, and how they can become addictive.


Recognize the signs of addiction such as multiple injuries, doctor shopping, or physicians dispensing medications.


Provide a strong return-to-work program for injured employees, so they can return to work without provoking another injury.


Provide emotional support to injured employees.


Let your employees know treatment options such as counseling and pharmaceutical treatment.
The Human Toll
The human cost of this epidemic is astounding, but the financial loss to construction companies is also a concern. In an industry where workers' compensation costs are already higher than average, adding in the problems associated with opioid addiction can put a real strain on your bottom line.
Cut Your Workers Comp and Contractor Insurance Cost – Contact Us Today!
Want to learn more about saving on your insurance costs? Give American Insuring Group a call at (800) 947-1270 or (610) 775-3848 or contact us online.
We specialize in construction and contractor insurance and are aware of the unique challenges you face, including the cost of workers compensation insurance. We'll help you save a bundle while obtaining the quality coverage you need to be well protected!