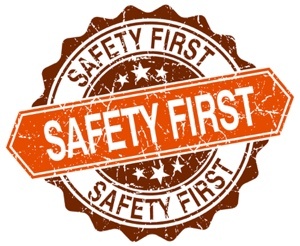 We talk a lot about safety on this blog, but the truth is that reducing and preventing the number of injuries in the workplace, is one of the best ways to reduce your workers' compensation and liability insurance costs. These costs tend to be higher than average in the construction industry due to its dangerous nature, so we're going to keep talking about safety.
One of the best ways to prevent injuries is to be aware of where and how most accidents occur. Here are the five top events or exposures that lead to injury on construction worksites according to ConstructConnect, along with some tips to avoid them.
The Top 5 Injury Factors on Construction Worksites
#1 - Contact with Objects
Construction sites are filled with heavy equipment and dangerous tools, so it's no surprise that in 2016, there were 29,160 cases of injuries caused by contact with objects. Being struck by objects or equipment caused the most injuries. Most of those were caused by handheld equipment or objects slipping or being swung by the injured employee. 5,220 accidents were caused by a falling objects or equipment hitting workers.
Injuries also occurred when workers hit an object or a piece of equipment. Some injuries occurred by hitting something stationery such as stepping on an object, but more happened when workers hit a moving object such as a moving part of the machinery.
There were also 3,260 injuries caused by a worker being caught in or compressed by equipment or objects.
Safety Tips:
Always wear a hardhat onsite
Avoid areas where work is being done overhead
Use lanyards or netting to avoid dropping tools or materials to a lower level
#2 – Slips, Trips and Falls
In 2016, there were 24,700 reported cases of construction workers being injured by slips, trips, or falls. The majority of those injuries were caused by falling to a lower level.
Safety Tips:
Provide fall protection for anyone working up high
Keep areas where people walk clear
Inspect personal arrest systems to make sure that everything is in good working order
#3 – Overexertion
Construction is hard work, so it's no surprise that in 2016, 21,150 overexertion injuries were reported. These injuries were caused by lifting or lowering objects; pulling, pushing, or turning; holding, carrying, or wielding, and other things like bending, twisting climbing, reaching, etc.
Safety Tips:
When lifting an object, bend at your knees and use your legs
Wear a back brace when lifting a heavy object
Take regular breaks when feeling fatigued or doing something that requires repetitive motion
#4 – Transportation Incidents
U.S. roads can be dangerous. In 2016, 3,470 injuries reported in the construction industry were the result of transportation incidents. This includes vehicle collisions and pedestrians being struck and injured by vehicles in both work zones and off the road – like on construction sites.
Safety Tips:
Obey traffic rules when driving
Be aware of what's going on around you
Avoid blind spots with mirrors and visual aid devices such as backup alarms and lights
Control traffic using barricades and signs to alert drivers of work zones, shifting traffic patterns, etc.
Wear proper safety equipment including hard hats, highly visible clothing, steel-toed boots, etc.
#5 - Exposure to Harmful Environments or Substances
In 2016, there were 1,470 injuries caused by exposure to extreme temperatures and 420 injuries caused by exposure to electricity. Electrical injuries can include electrocution, electrical shock, burns, and falls, and low voltage does NOT mean low hazard.
Safety Tips:
In hot weather, keep hydrated, try to schedule work during the cooler time of day, bring shade, and keep an eye on each other
In frigid weather, provide a heated break area; ensure that workers dress appropriately with layers of loose-fitting, insulated clothing; gradually introduce workers to the cold; know the symptoms of hypothermia, frostbite, and trench foot; and monitor each other
Check electrical cords and wires before using
Wear personal protection when handling electrical materials


Understanding Leads to Prevention
Understanding your biggest risks for injury and how to prevent them before they happen are your first steps to minimizing injuries in a notoriously dangerous industry. Providing a safe work environment is good for you and your employees. Plus, it provides cost savings on insurance and other costs of workplace injuries such as missed days of work, training new employees, lower employee morale, etc.
We'll Help You Save on Every Kind of Commercial Insurance!
To learn more ways to save on contractor insurance, workers comp insurance and all types of commercial insurance, simply call American Insuring Group at (800) 947-1270 or (610) 775-3848 or click to contact us online.
Our independent agents aggressively shop the market to find you the very best deal on quality insurance. Contact us today to start saving in Pennsylvania and beyond!