Restaurants come in all shapes and sizes from national fast-food chains to family-run diners with a single location.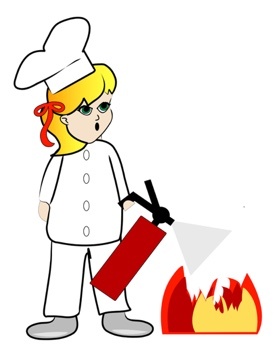 it's a mixed bag.
On one hand, the cost of workers comp insurance for servers, cashiers, busboys, dishwashers, and management is lower than average for all occupations. On the other hand, the cost for WC insurance for cooks is above average.
Most Workers Comp Insurance Claims are Small
Thankfully, most injuries that occur within a restaurant are relatively minor. This translates to lower medical benefits costs, lower temporary total indemnity benefits costs, and infrequent permanent partial disability benefits.
The restaurant industry has a high turnover rate, which often means that safety training is limited, which can lead to more injuries.
Returning to Work
Getting employees back to work quickly and safety after a workplace injury is always a priority of a good workers compensation program. With the restaurant industry, the bad news is that the high number of employees who speak English as a second language can make placement in alternative duty positions challenging; the good news is that there are plenty of modified duties available. Here are just a few examples:
A waiter or waitress can fill in as host or hostess.
Some injured employees can do side work like setting up the tables or filling water glasses, salt and pepper shakers, ketchup bottles., etc.
A dishwasher can ask another employee to carry heavy tubs of dirty dishes so he or she can wash them.
How to Lower Your Workers Compensation Insurance Costs
Workers compensation insurance rates often come down to safety. More injuries mean higher workers comp costs, and of course fewer injuries mean lower insurance costs. It may not be easy, but it is worth it. For every one dollar spent on safety programs, businesses can save $4 to $6 from costs associated with injuries and fatalities, according to Occupational Safety and Health Administration (OSHA).
Here are a few tips to help reduce the number of injuries at your restaurant:
Create a safety program for your restaurant and provide safety and first aid training


Require that all injuries – no matter how small - be reported so you can identify patterns or potential problems before something big happens


Offer employees incentives such as safety awards and other prizes for employees who follow your safety program.
Common Restaurant Injuries
In and out of the kitchen, injuries from falls and disability from repetitive motion injuries occur more frequently in restaurants than in most industries. While most injuries are minor, severe injuries, can and do occur in restaurants, especially in the kitchen. Here are three of the most common injuries in restaurant kitchens according to QSR magazine:
Burns
More than 5,000 restaurant fires are reported in the U.S. every year resulting in about 100 injuries, about $116 million in property damage, and fewer than five deaths. It's no surprise that FEMA reports cooking as the leading cause of restaurant fires accounting for 64 percent of all restaurant fires. Other causes include unintentional careless actions (4 percent), appliances (4 percent), and other heat (3 percent). Deep-fat fryers are the top cause of burns in restaurant kitchens, according to OSHA.
The National Restaurant Association recommends these burn prevention tips:
Use trays, hot pads, oven mitts, or dry waiter's cloths to help carry and serve hot dishes.


Be careful when removing plates from heat lamps and heat strips to avoid contact with hot surfaces.


With deep-fat fryers, use the correct grease level, cook at the manufacturers recommended temperatures, and don't over fill fryer baskets.


Because oil and water don't mix make sure that fryer and fryer baskets are dry after washing and don't allow excess ice crystals from frozen foods to get into the cooking oil.


Keep grill and stove surfaces clean to prevent grease flare-ups.


Use proper cooking tools such as tongs to prevent contact with hot surfaces and foods.
Lacerations and Puncture Wounds
Most cooks have had their share of scrapes and small cuts, but serious lacerations and even amputated fingers can happen. Your kitchen staff should be trained on how to use knives properly and sharp tools should always be returned to their proper location when workers are done using them. A knife left on a counter could easily fall on someone's foot causing injury. When a laceration or puncture wound does occur, immediately treat and disinfect the wound to help prevent infection.
Sprains and Strains
Restaurant workers can suffer from strains if they're using improper lifting techniques, and reaching for hard-to-reach items can cause injury.
Misplaced or hard-to-reach items can cause worker injury due to overreaching or trips. Restaurant workers can also suffer from strains due to improper lifting. When these injuries occur, analgesic heat rubs, muscle ointments, and aspirin can help reduce pain and maintain productivity.
Get a Free Workers Compensation Insurance Quote and Start Saving!
For a free workers comp insurance quote for your restaurant or other business, call American Insuring Group at (800) 947-1270 or (610) 775-3848 or contact us online.
Our dedicated independent agents will carefully shop the market, leaving no stone unturned to help you find great protection at the best price!