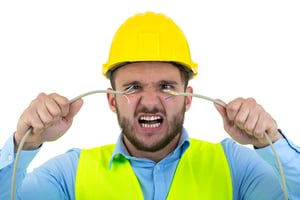 Construction sites are among the most dangerous work sites in the U.S., which is why Contractor Insurance costs – Workers' Comp Insurance, Commercial Liability Insurance, etc. - tend to be higher than other industries. The good news is that creating safer work sites and reducing injuries can lower your insurance costs.
Electrocution is one of OSHA's Fatal Four – the four types of accidents that were responsible for more than half of the construction workers' deaths in 2017. Working with or around electricity can kill you, and construction work sites present many electrical hazards.
Most electricians are aware of the dangers electricity can pose and how to avoid injury from those dangers, but anyone on a construction site can be exposed to electrical hazards and should understand how to recognize those hazards and how to avoid them.
All construction employees should be thoroughly trained on proper electrical safety.
Here Are Five Common Electrical Hazards at Construction Worksites:
Power Tools
Here are a few Power Safety Tool Tips from OSHA:
Don't carry tools by the cord
don't yank on the cord to disconnect it from the receptacle
Keep cords away from heat, oil, and sharp edges
Disconnect tools when you aren't using them, when changing accessories, and before servicing or cleaning them
Maintain your tools
Follow the Users' manual
Power Lines
Every year, workers sustain injuries and lose their lives due to electrocutions caused by overhead and underground power lines. Look up for power lines on any job site, especially any time you are framing a building, constructing scaffolding, or painting.
OSHA requires that all objects remain at least ten feet away from any lines operating at 50 kV or less, 15 feet for 200 kV, 20 feet for 350 kV, 25 feet for 500 kV, 30 feet for 650 kV, and 35 feet for 800 kV. If you have no choice but to work closer than ten feet, have the power company de-energize or move the power line.
Buried power lines can be just as dangerous, but unlike overhead power lines, buried power lines aren't easily identified. Don't take a chance; call 811 before digging.
Improper Grounding
Improper grounding (Aka earthing) of equipment and circuitry is the most common OSHA electrical violation. Grounding helps stabilize voltage and protect workers (and their equipment) from power surges.
Wet Conditions
Water is an excellent conductor of electricity and increases the risk of electrocution. If a worker touches water that is touching electricity, they can become the electricity's path to the ground. Workers should never operate electrical equipment in wet conditions.
Exposed Electrical Parts
There are usually plenty of exposed electrical parts on a construction job site such as electrical cords, temporary lighting, open power distribution units, and detached insulation parts. Contact with any of these can cause injury or even death.
These are just five of the most common electrical hazards on a job site. There are many other hazards that all construction workers should be trained on if you want to keep your workers safe, avoid OSHA fines, and keep your insurance costs down.
Additional Precautions
Only certified electricians should install or work on electrical systems such as receptacles, outlets, switches, etc.
Proper protective gear should be supplied to workers including insulated and approved head protection when working around overhead wires, face and eye protection to minimize injuries from arc blasts, and hand protection.
Training is key to a safe work environment.
What Other Steps Can You Take to Lower Your Contractors Insurance?
If you want to keep your Contractors Insurance rates as low as possible, find an independent agent who specializes in Contractors Insurance to ensure you get the right coverage and is willing to check with several insurance companies to ensure that you get the best price. That's what you'll find at American Insuring Group! Give us a call at (800) 947-1270 or (610) 775-3848 or connect with us online.