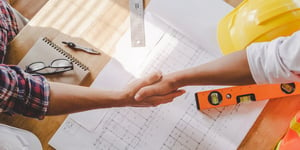 Contractors Insurance is key to the success of any contractor or construction company. The right insurance helps protect your company from employee injuries, litigation, or damage caused as a result of your work.
Hiring subcontractors – as many contractors do – creates additional liability and insurance considerations you need to consider if you want to ensure your business is adequately protected.
What is a Contractor?
If you Google "definition of a contractor," here's what you get – "a person or company that undertakes a contract to provide materials or labor to perform a service or do a job." A contractor solicits business, negotiates deals, obtains the contracts, and oversees the project. In the construction industry, a contractor typically works directly with the property owner.
What is a Subcontractor?
Many contractors hire subcontractors – a type of contractor - to assist with a small part of a larger project. Often a subcontractor will specialize in a specific skill, such as insulation, drywalling, tiling, etc. Google "definition of a subcontractor," and you get "a business or person that carries out work for a company as part of a larger project."
In construction, a subcontractor typically works directly with the contractor, not the property owner. His contract is with the contractor. However, a subcontractor is not an employee of the contractor.
Subtractor Liability Considerations
When something goes wrong during a construction project, who is held responsible? What if a subcontractor is injured? Or the subcontractor's part of the job isn't completed on time? Or there is faulty workmanship on the part of the subcontractor? Someone needs to be held accountable and pay for the damage or injury.
According to National Forensics Consultants, "These questions have posed problems for legal teams for decades, and as the [construction] industry grows, the more complicated matters become." Often, the general contractor is held responsible, but there are steps contractors can take to protect themselves:
Only hire subcontractors that you trust and have a reputation for doing quality work and honoring agreements.
Draft comprehensive contracts that include detailed information about what is expected of the subcontractor – What they will do, when they will complete it, how they will get paid, etc.
Ensure the subcontractor is appropriately covered by insurance.
Subcontractor Insurance Requirements
You may be able to add subcontractors to your insurance policies as an additional insured for the project's duration, or you may prefer, they carry their own insurance. Here are the types of insurance you may want to consider requiring of your subcontractors.
General Liability Insurance (Aka Business Liability Insurance)
General Liability Insurance helps cover costs such as medical expenses and legal fees if someone is injured or property is damaged as a result of your services.
Workers' Compensation Insurance
General Liability Insurance does not cover employee injuries. If an employee is injured on the job, Workers' Compensation Insurance covers medical expenses and lost wages. It also helps protect the employer from being sued by an injured worker. In Pennsylvania, most employers are required to carry WC. However, if the subcontractor is a one-man-show, it probably isn't required (but is a good investment).
Professional Liability Insurance (aka Errors and Omissions Insurance or E&O Insurance)
This type of insurance protects you if there is a claim against your business due to negligence, mistakes, or failure to deliver as promised.
Business Auto Insurance (Aka Commercial Auto Insurance)
Business Auto Insurance is a type of liability insurance that covers vehicles owned by a business. The general rule of thumb is that if a vehicle is used for tasks related to the business, a Commercial Auto Insurance policy is required. Many business uses or vehicle types can be excluded from personal auto Insurance policies.
Umbrella Insurance (Aka Excess Liability Insurance)
Umbrella insurance increases the policy's limits and provides additional protection against catastrophic losses.
How to Ensure Your Business is Protected
The agents at American Insuring Group specialize in contractor's insurance. We can make sure you have the right insurance protection, and – as independent agents – we will compare the cost of that coverage among several companies to ensure you get the best price on that coverage. Give us a call today at (800) 947-1270 or (610) 775-3848 or connect with us online for a free estimate.