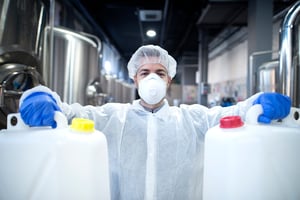 Keeping workers safe helps businesses save money with lower Commercial Insurance costs, higher productivity, higher employee morale, and more. There is one hazard in many workplaces that is easily overlooked – Ototoxicant chemicals.
Exposure to Ototoxicant chemicals can cause hearing loss or balance issues, even if workers are not exposed to loud noises. The risk of hearing loss increases when workers are exposed to both ototoxicant chemicals and elevated levels of noise. One study found that "exposure to organic solvents along with exposure to loud noise on the job, and smoking each increased a worker's risk of hearing loss by 15-20%."
Depending on the dose of the chemical, the length of exposure, and the noise level, the hearing loss can be temporary or permanent. According to the CDC, chemicals tend to affect the more central portions of the auditory system, which not only make the sound less loud but also distort words, making word-recognition more challenging.
Plus, any health and safety professionals are concerned that hearing losses caused by ototoxicants can go undetected because many hearing tests don't indicate the cause of hearing losses.
Hearing loss can cause accidents, increasing the number of workers' compensation claims, which could have a direct result on how much you pay. Plus, employees can file a complaint with OSHA if they believe their working conditions are "unsafe or unhealthful," and you could be held liable for an employee's hearing loss.
Who is at Risk?
Ototoxic chemicals can be found in pesticides, solvents, metals, and pharmaceuticals. Hearing loss can occur through inhalation, ingestion, or skin absorption of the chemical.
According to the CDC, workers in manufacturing, mining, utilities, construction, and agriculture are more likely to be exposed to ototoxic chemicals. Activities that often add a high level of noise exposure along with the exposure to ototoxicant may include:
Printing
Painting
Construction
Manufacturing occupations in subsectors such as machinery, petroleum, fabricated metal, and more
Firefighting
Weapons firing
Pesticide Spraying
Prevention of Hearing Loss Due to Ototoxic Exposure
Your first step should be to identify if there are ototoxicants in your workplace. Ototoxicants include toluene, styrene, carbon monoxide, acrylonitrile, and lead. Review Safety Data Sheets for ototoxic substances.
"When specific ototoxicity information is not available, information on the chemical's general toxicity, nephrotoxicity, and neurotoxicity may provide clues about the potential ototoxicity," the Occupational Safety and Health Administration (OSHA) states. "Most chemicals that are known to affect the auditory system are also neurotoxic and/or nephrotoxic. Information on whether a chemical produces reactive free radicals could also give some clues about the agent's potential ototoxicity."
If you can replace the hazardous chemical with a less toxic chemical, that can reduce your workers' exposure to ototoxicants. If that is not possible, use engineering controls to limit exposure. Controls can include enclosures and isolation to both ototoxicants and noise. Good ventilation also helps control exposure to hazardous chemicals like ototoxicants.
You should also provide appropriate personal protective equipment (PPE) to employees who are at risk of exposure. Avoid absorption into the skin with chemical-protective gloves, aprons, arm sleeves, etc. Also, provide hearing protection if workers are exposed to high levels of noise.
OSHA also requires that employers provide health and safety information along with training for employees who are exposed to oxotoxic and other hazardous materials.
More Ways to Lower Your Commercial Insurance Costs
Creating a safer work environment will help you save on Commercial Insurance costs, such as Workers' Compensation Insurance and Liability Insurance. Finding the right insurance agent can also help you save on Commercial Insurance costs.
American Insuring Group specializes in Commercial Insurance, and as independent agents will check with several companies to ensure that you get the best price on all your Commercial Insurance needs. Give us a call at (800) 947-1270 or (610) 775-3848 or connect with us online to see if we can help lower your Commercial Insurance Costs.