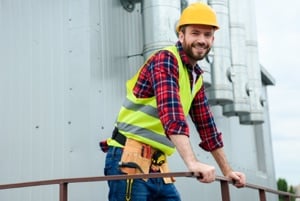 We're sure it comes as no surprise that the cost of Workers Compensation insurance is higher in the construction industry than in most industries. The main reason for this is that worksites can be dangerous places.
There's heavy equipment being used, people working at great heights, continually changing surroundings, and too often, safety training is put off due to tight deadlines. These potential hazards often result in more frequent workers comp claims and more severe injuries, which means higher medical payments and in turn higher workers comp insurance costs for employers.
Unique WC Challenges in the Construction Industry
In addition to higher risk, construction companies face some unique workers comp safety challenges:
There is usually a mix of employees and subcontractors working at the same job site, which makes it more challenging to ensure consistent safety training and the enforcement of safety procedures. Contractors should always verify that subcontractors have adequate workers' compensation coverage.
Falls account for an estimated 30% of all construction claim payments. Injuries from a fall are usually more severe and result in more time away from work and damage to more than one body part. Falls are also the leading cause of death for construction employees accounting for 370 of the 991 construction fatalities in 2016.
Skilled tradesmen usually require specialized training and undergo unique physical demands, which often means higher pay that results in indemnity benefits that are either near or at the state's maximum level. Indemnity benefits are benefits paid to the injured employee to replace part of his or her lost income and account for about half of all the money spent on WC claims in the construction industry.
Finding modified duty for injured construction workers can be difficult because once a project is completed, the company moves to another location – sometimes in a different state.
How to Reduce Workers Compensation Insurance Costs in the Construction Industry
Create a Safer working Environment
It's impossible to eliminate all hazards at a worksite, but there are steps you can take to minimize those hazards. Construct Connect offers these tips:
Establish a Safety Culture – A commitment to safety needs to start at the top, and it needs to be incorporated as one of the core principles of your company's culture.
Create a Site-Specific Safety Plan – Each job site is different and comes with its own unique set of hazards, so a safety plan needs to be created for each site.
Training – Safety training should be thorough and ongoing.
Empower Workers to Speak Up and Hold Each Other Accountable – Everyone on a job site should feel comfortable speaking up if they observe unsafe working conditions.
Conduct Daily Safety Meetings – Quickly review the work being done that day and discuss the hazards involved and the safety measures and controls in place.
Inspect, Evaluate, and Adjust – Every day the construction site should be inspected, and as construction progresses, the safety plan should be evaluated to see if any changes need to be made.
Return-to-Work Program
Another way to reduce WC insurance costs is to have a good return-to-work program that gets injured employees back to work as quickly and safely as possible, even if that means modified duties. Research shows that there are many benefits to getting an injured employee back to work:
Reduces the financial impact of the injury
Lowers likelihood of fraudulent claims
Reduces the cost of training and replacing employees
Promotes good morale among the injured employee and his or her co-workers
Can speed up the healing process
We Specialize in Insurance for the Construction Industry
American Insuring Group specializes in insurance for the construction industry in Pennsylvania and beyond. We understand your unique challenges and can help ensure that you have the right coverage. Plus, we compare pricing with competing insurance companies to make sure you get the best price on workers compensation insurance and on all other types of insurance for your construction business.
If you want to learn more about saving money on business insurance, give one of the experienced independent agents at American Insuring Group a call at (800) 947-1270 or (610) 775-3848 or click here to contact us.