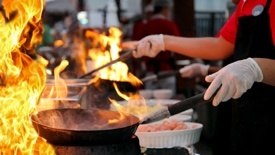 As the owner of a restaurant, you have a lot of responsibilities – managing employees, advertising, pricing, and the list goes on.
But your most important responsibility should be safety – the safety of your employees, your customers, your property, and your business.
Restaurants do come with some unique safety challenges, but there are many steps you can take to make your restaurant a safer place to work and enjoy a delicious meal.
Better Restaurant Safety Means Fewer Claims, Lower Insurance Costs
Every owner of a bar, tavern, club or traditional restaurant is interested in lowering his or her restaurant insurance costs. Here are some helpful tips to improve safety, organized for employees, customers, food handlers, and restaurant owners.
Safety Tips for Restaurant Employees
Food industry employees have a 60% higher rate of occupational injury or illness than workers in other industries, according to the National Safety Council. Injuries that required time off work are more than twice as frequent with food industry employees, and the risk of occupational death is 9.5 times higher for food industry employees.
The most frequent causes of injury are slips, trips, and falls. Other causes include burns, cuts, sprains and strains, and injuries resulting from repetitive motions.
Here are 4 tips to keep your employees safe in the kitchen:
Keep floors clean and uncluttered

. Clean up spills immediately, use floor cleaners with good grease-removal and slip-resistant properties, and post "caution" signs when floors are wet. Pay particular attention to the area around ice machines.



Provide safety equipment/appare

l such as oven mitts, anti-fatigue mats, protective eyewear, and cut-resistant gloves.



Provide safety training

including proper knife handling, lifting techniques, and the right way to use kitchen equipment.



Follow manufacturer instructions

on kitchen equipment, use protective gear, and properly maintain all of your equipment.
Tips for Customers and Anyone Who Prepares Food
The Center for Disease Control (CDC) estimates there are 38.4 million episodes of foodborne illness in the U.S. every year. A study by the CDC found that the riskiest food prep practices include 1) not washing hands or changing gloves between touching raw meat or poultry and ready-to-eat foods, 2) not using a thermometer to check the temperature of cooked foods, and 3) working while ill (vomiting or diarrhea).
"Safe steps in food handling, cooking, and storage are essential to prevent foodborne illness," according to United States Department of Agriculture Food Safety and Inspection Service. "You can't see, smell, or taste harmful bacteria that may cause illness."
Here are the four simple steps the USDA recommends during food prep:
Clean

– wash hands and surfaces often

Separate

– don't cross-contaminate

Cook

– cook to the right temperature

Chill

– refrigerate promptly
Tips for Restaurant Owners
Between 2006 and 2010, nearly 8,000 eating and drinking establishments reported a fire every year causing an average of $246 million in property damage each year, according to the National Fire Protection Association (NFPA). More than half of those fires were caused by cooking equipment. Other causes were heating equipment, electrical distribution and lighting equipment, smoking materials, and 5% are intentionally set fires.
The National Restaurant Association offers these 6 fire safety tips:
Install an automatic fire-suppression system

in your kitchen, which will automatically (or manually) suppress the flames and shut down the fuel or electric supply to nearby cooking equipment.

Have Class K portable fire extinguishers

in the kitchen as a backup and Class ABC extinguishers in other areas of your restaurant.

Keep an eye out for electrical hazards

such as frayed cords and broken switch plates and repair them immediately. Schedule regular maintenance on your electrical equipment.
The NFPA fire code calls for

regular inspection of exhaust systems

for grease buildup. Follow their guidelines based on your volume of operations.

Keep your kitchen clean

. Remove grease from exhaust hoods, walls, work surfaces, grills, vents, etc.

Train your staff on how to use a fire extinguisher

correctly, how to treat a grease fire, and how to properly handle flammable liquids.
Better Safety Leads to Lower Restaraunt Insurance Costs
Implementing and enforcing safety practices and procedures at your restaurant is a great way to help ensure the safety of your property, employees, and customers. Unfortunately, even if you put every safety measure in place, accidents are bound to happen. One nasty lawsuit could set you back years or in some cases close your business.
Contact Us to Create a Safety Net For Your Restaurant!
That's why you need a safety net - the right insurance for your restaurant, bar, nightclub, food truck, or any other type of food service business. The independent agents at American Insuring Group can help determine what type of restaurant insurance will best protect your restaurant while helping you get the best possible price. Give us a call at (800)947-1270 or (610) 775-3848 or Contact Us Online to get started.