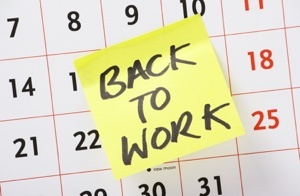 Getting people back to work on time can help reduce the cost of workers compensation insurance claims. But how is this achieved?
People are different. We are not robots. We are not cookie cutters of each other. We are all unique. And good managers understand that every employee is different. What one employee may respond to, another may not (and may cause the opposite effect). You need to "read" your employees to determine the best way to motivate and communicate with each one individually.
The same applies when it comes to an injured employee's return to work. If you want to get them back to work as quickly and safely as possible after a workers' compensation claim, you need to understand a little about their personality type and determine the best way to communicate with them.
Workers Compensation Return-to-Work Strategies
Fortunately, there are many different return-to-work programs, and it's up to you to match the right strategy and the right communication style with each employee. Most employees fall under one of these four different employee personality types:
Satisfied-Active
These employees are happy and ready to return to work. This employee has probably missed few if any days of work, is committed to the company, and is considered a go-getter. This type of employee may even look at his or her injury and workers' comp insurance claim as a weakness or setback. With this kind of employee, you'll want to send them a get well card and work with them to create a strategy – whether that means a transitional duty position (if appropriate) or just getting them back to work. Repeated phone calls aren't necessary and could be considered intrusive.


Satisfied-Passive
These employees are generally happy with their jobs, but aren't necessarily chomping at the bit to get back to work. This type of employee needs a little more prodding than the Satisfied-Active employee. It's okay to call this employee a few times to keep up with their progress, and you'll probably need to come up with a return-to-work strategy for them.


Dissatisfied-Passive
These employees are unhappy. While they may not actively create schemes, they will take advantage of any opportunity to stay out of work. This type of employee definitely needs more communication to help keep them on the straight and narrow. Regular communication with them and their physicians to monitor their progress is needed.
Dissatisfied-Active
These employees are unhappy with their situation and actively do their best to take advantage of the system. You will need a more aggressive approach with this type of employee including fraud prevention measures, hiring investigators, and having constant communication with them.
An Important Workers Compensation Cost Control Goal
Your goal should be to get workers who have filed a workers' compensation insurance claim back to work as quickly and safely as possible. Using different approaches based on their personalities will help make that happen.
We Can Help with Workers Comp Insurance
For help in lowering your workers compensation insurance costs contact American Insuring Group online, or give us a call at (800) 947-1270 or (610) 775-3848. Our independent agents will be sure to find you the right policy at a great price. Contact us today to get started!